Can you guess was a torque of 1.2 Nm feels like? Many users think they know, but overtightened screws and unsightly cracks in sensitive materials often tell another story. Depending on the job, the work may have to be laboriously repeated or may even remain undetected, possibly putting safety at risk.
In tests at the low torque range we found that screw connections were generally tightened using twice as much torque as intended. And it was not unusual for the torque applied to be even four-times too high.
High-precision torque tools help you to screw securely and precisely. The latest generation of PB Swiss Tools torque handles measure the spring force by means of a unique sensor. Our digital displays stand out from standard display measurements thanks to a rigid scale that allows for repeatable precise tightening of screws. And the NFC interface gives you smartphone access to all the values of your precision tool. Discover our range of torque tools and see for yourself.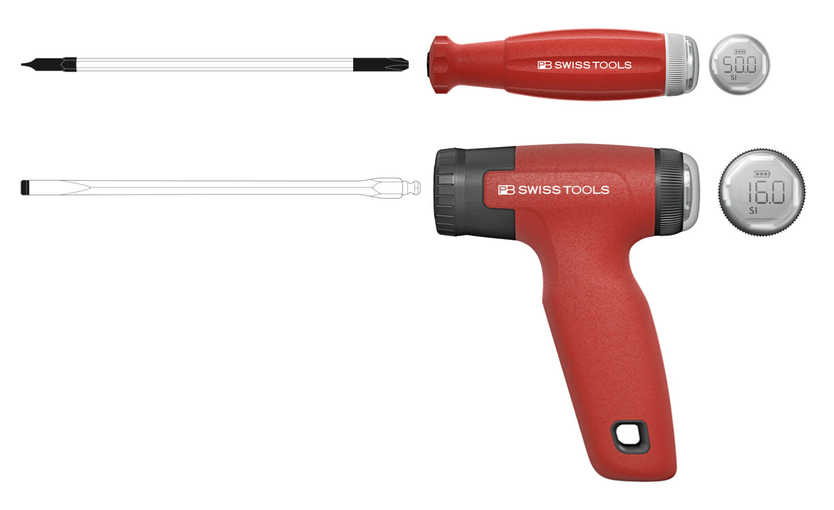 ---
Assured precision with wireless communication
DigiTorque V02 Determine the torque accurately and repeatedly with just one movement
With the new DigiTorque V02, you can tighten screws in delicate materials such as aluminum, carbon and plexiglass, gently and without damaging them. You can set the torque precisely and easily using the rotary cap at the end of the handle – without the need for any other tools. This allows you to screw together sensitive materials such as aluminum, carbon and plexiglass without the risk of damaging the materials through excessive torque.
Using a smartphone, you can transmit useful information to and from the handle, including the values after adjusting with the help of a testing device. Adjustments can be made using the smartphone or in the usual way, using key functions directly in the handle electronics.
| | |
| --- | --- |
| | |
| Torque can be adjusted without any additional tools. | Exact display of the torque using a new, unique load measurement in the handle. |
| | |
| Including high-quality replaceable battery. | NFC: Transfer data from the tool to your smartphone with minimal power consumption. |
---
Great new possibilities with your tools – the PB Swiss Tools app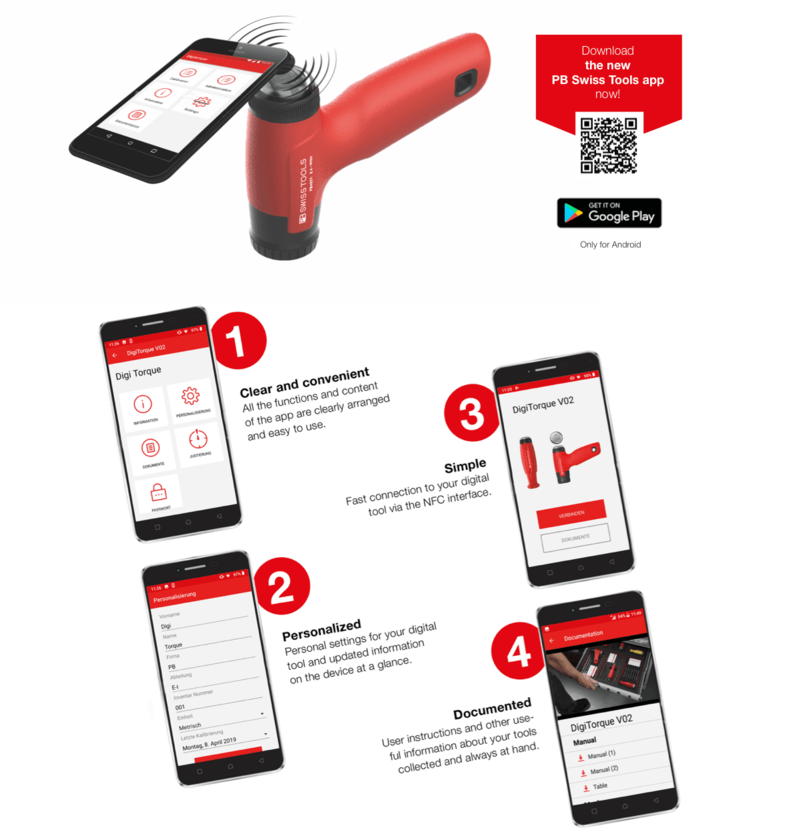 ---
Overview of range
PB Swiss Tools torque handles ensure exact, consistent and repeatable work. Particularly suited for work in industrial environments such as assembly and machining.
DigiTorque V02
With built-in electronics and digital display. Data transmission using NFC.
MecaTorque
Mechanical design. Recalibration-capable and without scale.
MecaTorque preset
Mechanical design. Recalibration-capable and without scale.
MecaTorque ESD
Mechanical design and analog scale. Electrostatically dissipative.
---
Latest News

Sharing is the new buying

We are supporting an innovative and sustainable sharing idea: Leihlager Basel – The Library of Things. After over a year of planning and thanks to an extremely successful crowdfunding campaign, the project has now been brought to life.

Read the whole article

#WorkWithTheBest

Share your projects and successes with PB Swiss Tools in our worldwide community and discover tips and projects from other customers on our Social Wall.

View Social Wall