50 invited guests followed the premiere of our latest product videos on the fantastic Bel Etage of the Cologne chocolate museum. A great event in the framework of the International Hardware Fair 2016!
At the International Hardware Fair in Cologne, the most important decision-makers, manufacturers and trade visitors from all over the world meet every year. In the closing report, the organizers presented an outstanding result: 44,000 'trade visitors from 124 countries, roughly 2,670 exhibitors from 55 countries, well-filled halls – and well-filled books.
The film stars: Our quality hand tools in use
We were also on location and organized a very special film premiere for our sales partners from all over the world: On the Bel Etage of the chocolate museum in Cologne, we showed our latest product films – all of them short portraits of our bestsellers, which are:
Swissgrip screwdriver
Cross-handles
Torque tools
RainBow hex key L-wrenches
PrecisionBits
The clips are entertaining and impressive and last less than a minute. True to our motto, «Work with the best», professionals demonstrate our tools in use: Swiss helicopters in Zweisimmen, ABB Traction in Turgi, Velodrome Grenchen, BMC Grenchen – they and additional renowned companies rely on the quality and functionality of our tools.
You can view all of them here on our website – and if you subscribe to our Youtube channel, you will always be informed about the latest clips. Additional videos will follow soon.
Presentation of new e-commerce strategy
E-commerce was a thematic focus at the fair and everyone was talking about it. At the event in Cologne, we demonstrated our new e-commerce strategy to our guests. It was presented by Dr. Dirk Morschett, Professor for Management at the Fribourg university. He conducts research primarily in the areas of international management and trade management, particularly online trade, operation types and retail branding.
The event was a complete success: Satisfied guests, great location, the finest in food and drinks and an exciting program – what more could one want?
Impression from the event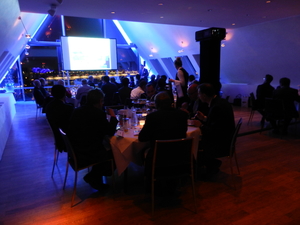 Main image source: Schokoladenmuseum Gastronomie GmbH, Cologne