The very first "Swiss Innovation @ PB SWISS TOOLS" forum was held on June 24, 2016. The successful event was put on by our subsidiary PB SWISS TOOLS (Shanghai) Trading Co., Ltd, in Tian Jing, China.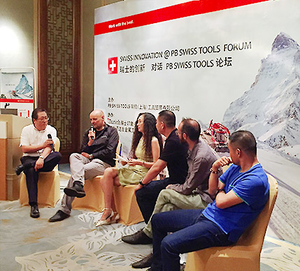 Lively discussions

A large number of guests from the aviation and electronics industries showed a great interest in the presentation given by Mr. Thomas Schlapbach, Executive Director and General Manager, and by Lemon Kong, Sales Director of PB Swiss Tools (Shanghai) Trading Co., Ltd. The various product demonstrations – which served to convince guests in practical exercises of the quality and performance of the tools manufactured by PB Swiss Tools – proved to be fascinating to the visitors of the forum.
Highlight: The "Swiss Innovation Dialog" discussion
The "Swiss Innovation Dialog" discussion, held by Mr. Thomas Schlapbach on the history of PB Swiss Tools and the success factors of small and medium-sized companies in Switzerland, developed into a colorful and interesting discussion thanks to the active participants.
You are warmly invited to the next customer event on September 2, 2016 in Shenzhen, China. Our CEO, Ms. Eva Jaisli, will be present at this event, which is set to be equally as exciting. Our representative, Mr. Lemon Kong, l.kong(at)pbswisstools.com, is looking forward to receiving your application.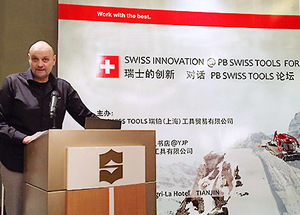 Professional presentation by Thomas Schlapbach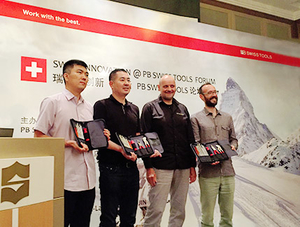 Awarding 1st Prize

Group photo of the Forum