Our products are now available at specialist retailers throughout Germany. Our sales and distribution are constantly growing: Did you know that you can now find our innovative PB Swiss Tools at over 400 specialist retailers across the whole of Europe? It is now even easier for professional tradespersons and DIY enthusiasts to purchase our tools in the best Swiss quality quickly and conveniently from a local store or online. Other European countries also benefit from this, as there are no customs duties within the EU region.
Find the closest specialist retailer with the click of a mouse
The retailer finder on the PB Swiss Tools website shows our local points of sale – simply click the link below and type in where you live.
Add to your shopping basket with just one click
You can find our high-quality tools online at Amazon or Contorion via the following links:
PB Swiss Tools – 100% Swiss-made
Guaranteed quality thanks to 100% vertical integration in our Swiss production facilities.

Lifetime guarantee with the serial number on each tool.

One-fifth of our annual turnover is reinvested in developing new products.
PB Swiss Tools – best marks in the trade world
Our products are used every single day and pass every acid test. We score the best marks on online test platforms such as www.meister-testen.de. On this platform , fifty testers have assessed our RainBow L-wrench and recommend it with a rating of just under 100%.

A test report written by Jens on the PB 212 LH RB RainBow L-wrench

"A solid tool for a fair price. However, I was not familiar with the brand beforehand. I would also like to take a look at the company's other products."

Jens on meister-testen.de
This product has been assessed by fifty tradespersons: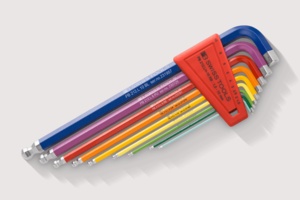 PB 212 LH RB – RainBow L-wrenches, long, with ball point, set in a practical plastic holder
for hexagon socket screws
chrome-plated and powder-coated, color coded by size, quick access to the right tool
perfectly shaped ball point, allows screws to be turned at an angle of up to 30°
special alloy based on spring steel, exceptional elasticity coupled with high grade hardening
laser-marked serial number, lifetime guarantee
Discover our high-quality hand tools
Our excellent hand tools are manufactured with uncompromising Swiss quality: precise, durable and reliable. The first choice for anyone needing to tighten screws professionally.
Overview of our retailers and sales partners
Here, you will find your local PB Swiss Tools suppliers at the click of a mouse.
#innovation #PBSwissTools #professionaltradespersons #professionaltools #tools #swissquality #amazon #contorion #tool #screwdriver #vde #torquetool #L-wrench #strikingtool #precisionbits #newproduct #sales #specialistretailer #Germany #Austria #DIYenthusiast