Over the next two years, the 64-year-old will hand over her position as CEO at PB Swiss Tools. In an interview with the "Unter-Emmentaler", Eva Jaisli sheds light on the succession planning in place at the successful manufacturer of tools and medical instruments. The Burgdorfer also reveals how she managed to achieve a stellar career and still raise four children.
Patrick Jordi in conversation with Eva Jaisli, CEO of PB Swiss Tools based in Wasen, Emmental
Ms. Jaisli, I was shocked when we first spoke over the phone.
You don't say! (smiles) Why is that?
Because I reached you straight away and was able to speak to you directly. Nowadays, it's rare to be able to get hold of the CEO of a medium-sized company so easily.
That may be so. But I don't know why you should have to jump through hoops if you want to talk to me anyway. It's important to me to be involved and take care of things myself. Anyone who has a concern should be able to contact me directly. This is one of the reasons why I don't have an assistant at our company. Of course, I'm not available around the clock. That would be too much. But I attach great importance to being there for people who need something from me or want to talk to me.
"Anyone who has a concern should be able to contact me directly."
This credo also applies to you privately: Despite your stellar career and management position, you have always been there for your – now grown-up – three daughters and one son. How did you manage to strike the right balance between career and family planning?
For many years, my husband and I divided things up so that each of us stayed at home with the children one day a week. This was our part-time solution. From the outset, it was clear to us that both parents wanted to share responsibility – both within the family unit and in terms of being joint breadwinners. Suitable arrangements and a clear division of tasks were also important. In addition, we were fortunate enough to employ a third party to help us with the household and childcare.
You or your husband could have also put all your eggs in the "family" or "career" basket. Why did it have to be both?
As far as I'm concerned, it was clear early on that both were possible. My own family environment and the way I grew up have shown me that family and work can be reconciled if the conditions are right. My parents worked in Langenthal at an SME in the interior fittings/timber trade. They also had a lot on their plate with the family and business back then, but everything worked well together. They were there for the children. This meant we had a healthy family life on the one hand and, on the other, a functioning family business. These experiences have shaped me.
Later you left Langenthal. Do you still have connections to the Oberaargau region?
I regularly visit my mother, who still lives in Langenthal. I also still have some friends in town. For me, Langenthal is in some way the gateway to the Emmental valley – just like Burgdorf, incidentally. That's why I still count the Oberaargau, in the broadest sense of the word, as my home – even though my husband and I now live in Burgdorf. As CEO of PB Swiss Tools, it goes without saying that I now have very strong links with Wasen, Grünen and the "real" Emmental valley.
If you look at your early career, you wouldn't have bet on you eventually taking over the management of an SME with 200 employees.
Absolutely. I followed my childhood dream and first became a teacher. But even during my training, I realized that this would probably not be the end of the line from a professional point of view.
So what happened?
At first, I worked as a teacher. I had to earn money in order to be able to afford a degree, among other things. I then studied Social Work/Social Sciences in Bern and Organizational Psychology at the University of Boston, so I even lived in the USA for a while. These experiences ultimately led me on a different career path, with a focus towards business and entrepreneurship. During that time, I worked as a project manager at the Economic Office of the City of Bern and later as a lecturer and member of the Executive Board of Bern's universities of applied sciences.
One led to the other …
You could put it that way. As a university lecturer, my hobby was management. From then on, it wasn't really a big leap to the head of a company in the private sector. The postgraduate course in Business Administration and Organizational Development, which I completed in the mid-1990s and which was then followed by an EMBA, also helped me along this path. Shortly afterwards, in 1996, I joined the Management Board of PB Swiss Tools. 27 years later, I'm delighted to still be working for our family-owned company – it's amazing how quickly time flies!
You are now 64 years old. The rumor is that you're going to take things easier on the operational side. Does this mean you're about to step down as CEO?
It's true, my time as CEO is coming to an end. Specifically, this means that I will be stepping down from my role as CEO of PB Swiss Tools within the next two years. After that, I and my husband, who is now also a member of the Management Board, will continue to be available to the company, but no longer at an operational level. Instead, we will be part of the Board of Directors at a strategic level.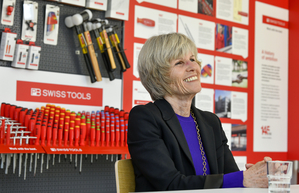 "Specifically, this means that I will be stepping down from my role as CEO of PB Swiss Tools within the next two years."
Who will be taking over operational management? Has this already been decided?
It is important that the company can also continue to develop successfully in the future. With this in mind, we want to maintain our proven strategy of family ownership. This means operational management – like today – will remain within the family. It has been agreed with our children that the company will continue to develop with their support. We are currently working on the composition of the future Management Board.
It is noteworthy that PB Swiss Tools continues to maintain its production sites in Wasen and Grünen. Given rising energy costs, general inflation, a shortage of skilled workers, globalization and so on, wouldn't it be much cheaper to manufacture abroad? How long can you still afford to manufacture your tools in Switzerland – and in Emmental?
Quite simply, as long as we remain competitive. And yes, it might be cheaper to manufacture abroad. However, our two sites here in Emmental offer a whole host of advantages. The most important one is our existing employees and their expertise. The immense knowledge and great loyalty of our employees would first have to be built up at a new location, which would be risky abroad as well due to the shortage of skilled workers. Here, we know that both are already in place and work well. Research and development is also well-established in Switzerland, which is very valuable when it comes to developing innovative offerings.
Can you still find enough capable people to do their job? The shortage of skilled workers is on everyone's lips …
… and it is also an issue for us. And a big concern. However, the successful development of our company and the solid image of PB Swiss Tools help us to continue to find well-trained employees. We still have a good chance of recruiting interested apprentices and employees, especially among the younger generation. We now offer seven different apprenticeships.
Your company has grown not only in terms of apprenticeships, but also in the number of employees in general. You now employ around 200 people – up from around 150 in 2014. How can this increase be explained?
Through market growth, increased sales and the need for experts. Fortunately, demand for our quality tools and medical instrumenour company has grown not only in terms of apprenticeships, but also in the number of employees in general. You now employ around 200 people – up from around 150 in 2014. How can this increase be explained?ts is high. One-third of our sales is generated in Switzerland, where we have a high degree of market penetration. We will expand our market share above all in the European market. We are in the process of opening up markets in new countries in Asia and America. There is huge global potential for the online marketing of our products. The European and overseas export markets currently account for the remaining two-thirds of our sales.

Speaking of which, do you announce sales and profit figures?
No, as an owner-managed family business, we do not publish key figures on sales and profit. Looking back at the pandemic years, however, I can say that we experienced a decline in sales in 2020 because the situation was so unstable, with lockdowns abroad and temporary closures of sales areas in Switzerland. However, we recovered as early as 2021 and were able to increase our sales significantly again. 2022 was also a successful business year.
With a workforce of 200 people, is it still possible for the CEO to know all the names and backgrounds of the employees?
I am convinced that it is still possible to maintain personal contact with 200 people. Communicating on an equal footing is very important to me personally. That's why I like to take time for walks around the company or for personal discussions. This allows me to answer questions and get feedback. I do admit that, with 200 people, it is becoming increasingly difficult to know the joys and sorrows of all employees. You have to get to know each other first. This takes a little more time – especially when we have new employees joining the company at short intervals.
It almost sounds like you've had a lot of personnel changes from the pandemic up to today?
We experienced a low fluctuation rate during this period. The departing employees also included some who had reached normal retirement age. During the coronavirus pandemic, others who left the company asked themselves whether they were still working in the right place and in the right job – a development that was also seen on the labor market in general. In other words, staff turnover was kept on a tight leash – we still have many long-standing and loyal employees.
Coming back to the subject of a shortage of skilled workers, these staff probably commute from all over Switzerland to Grünen and Wasen – in other words, from further away.
No, that's the thing – around 95 percent of our workforce still reside in the region, and live within a radius of 15 to 20 kilometers. We are able to recruit our specialists in the local area. But it goes without saying that we also have some employees who have slightly longer to travel. However, we now have solutions such as working from home or part-time work that we consciously promote. During recruitment, we can then offer these people attractive and stress-relieving working conditions where required.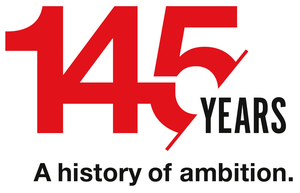 "Around 95% of our workforce still live in the region."
PB Swiss Tools is celebrating its 145th anniversary in 2023. Why are you celebrating this rather unusual number?
It all began in 1878 with a simple village forge in Wasen. In 145 years, we have become a global market leader and quality leader in the field of hand tools and medical instruments. In our anniversary year, we will pause and look back on an eventful and successful past with our employees, suppliers, customers and many others. At the same time, we are looking to the future and exploring innovative solutions for expanding our range of products and technologies. Change and continuity will continue to shape the company's history in the future. Sustainable development will also remain a strategic focus for the fifth generation of the family.
So the anniversary year is not only a celebration, but also a means of communicating. Where does PB Swiss Tools need to draw the attention of the general public?
Our successful business activities are largely dependent on political and economic conditions. There are always topics that have a direct impact on us. For example, we recently had a vote on the utility roads in the Emmental and Oberaargau region. But even when free trade agreements are discussed and decided on a national level, as an export-oriented company we naturally have a great interest in the outcome of the vote. After all, we are dependent on the existence of as few export barriers as possible. In our anniversary year, we also want to selectively influence the discourse that has a stimulating effect on politicians and legislators alike.
I have to hand it to you, this is a relatively subtle way for the company to express its views on current political issues. But why don't you exert more direct influence by entering politics yourself, for example?
Look, I've been approached about this many times in the past. There was a desire to see me in some kind of political office. However, I always decided against it. This was mainly down to capacities, as I would not have found the time as a mother of four and as a working woman. Even today, I am not a member in any political party. However, I am present on the boards of various business associations, from where we can show parliamentarians exactly where the shoe is pinching in the manufacturing industry, for example. As CEO of PB Swiss Tools, I also have a public voice and am heard.
The tabloid press once said that you can sometimes be quite a challenging person. Is this true?
Personally, I would maybe say "demanding" rather than "challenging". However, it is true that I expect very good performance from our teams and individual employees and require them to play their part responsibly. I apply the high standards I have of myself to day-to-day business. This can be challenging for individuals. Having said that, I think that I'm also a reasonable person. In other words, I do have a keen sense of the point at which individuals or entire teams reach their limit.

"I apply the high standards I have of myself to day-to-day business."

Are you a perfectionist?
I would say that I'm a fan of diligence (smiles).
Whether you're a perfectionist or not, it's fair to say that you're passionate about your work. After all, you also hold several mandates and are involved in various associations and organizations. How do you keep burnout at bay?
Balance is an important issue. In this respect, I am fortunate that I love being active – preferably in the great outdoors. I like jogging, cycling, rowing and hiking. I summon up a lot of energy from all these activities. Much of this happens on weekends, but there's almost always time for a jog – even early in the morning or late in the evening. Add a good audio book, and that's all I need to relax.
It was recently announced that you are going to take over as Chair of the Schweizer Berghilfe (Swiss Mountain Rescue Association). You have been on the Board of Trustees there since 2017, most recently as Vice-President. Why is this commitment important to you?
As CEO of PB Swiss Tools, I have seen the challenges that life and business in the mountains bring time and again for decades. Although our headquarters are located just below the mountains, most of our employees come from the region and commute to work from some very remote corners of the Emmental valley. I am then constantly finding out what it means to live and work in mountainous areas. It is important that we have lively mountain areas in Switzerland. This is the only way to offer the people who live in these regions sufficient opportunities to live their lives over many generations.

Founded 145 years ago in Emmental
PB Swiss Tools is a Swiss manufacturer of high-precision quality tools and medical instruments based in Wasen in the Emmental valley, and has another production site in Grünen near Sumiswald. The company has a long tradition that dates back to 1878, specializing in the production of tools for professional use in industry, trade and the private sector. Medical screwdrivers have also been part of the range for more than a decade. According to the company, it manufactures 13 million tools and instruments every year. The portfolio numbers around 3,000 different products.
Eva Jaisli joined the Management Board of the company in 1996. However, over the next two years the 64-year-old wants to hand over her position as CEO to the next generation (see interview). Today, Eva Jaisli runs the company together with her husband Max Baumann and son Marco Baumann. This marks the fifth generation of family ownership at the company.
As CEO, Jaisli has been a strong advocate of corporate social responsibility for many years. In addition to the integration of people with disabilities, refugees and the training of apprentices, Eva Jaisli is also committed to attracting more women to careers in technical fields. According to the company, 30% of employees on all production and hierarchical levels are women – even though tool technology is still clearly a male domain.
PB Swiss Tools manufactures exclusively in Switzerland in order to create and maintain jobs and apprenticeships in the Emmental region. The first screwdriver went into production in 1940. In 1982, PB Swiss Tools became the fourth Swiss company to integrate industrial robots into production. This made it the first industrial company ever to work with robots in the canton of Bern. In the late 1980s, heat pumps were installed in production plants instead of oil heaters. Medical instruments were added to the tool range in 2011.
PB Swiss Tools does a lot when it comes to sustainability. On the one hand, the products from Emmental are so tough, they are almost indestructible, because the most sustainable tool is the one that only has to be made and bought once. On the other hand, progress was made in production too. Every week, more than 80,000 liters of water are saved thanks to the cyclic water system introduced in 2012. Since 2015, the company has also been able to save 50,000 liters of oil per year by completely eliminating fossil fuels. Around 50 percent of the plastic packaging has been replaced with high-quality cardboard. The company has also made a voluntary commitment to actively reducing CO2 emissions and improving energy efficiency. A solar system is being planned on the roof of one of the two factories. Patrick Jordi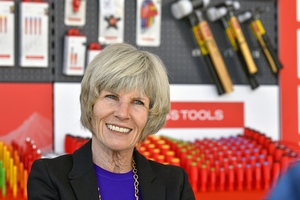 Profile:
Eva Jaisli
Born: July 4, 1958
Background: Grew up in Langenthal, now living in Burgdorf
Family: Married to Max Baumann, mother of four adult children and grandmother of two.
Occupation: Today CEO of PB Swiss Tools, a manufacturer of tools and medical instruments. Originally, Eva Jaisli obtained her teacher's license (1981); before undertaking further training, she worked as a teacher during her studies.
Hobbies: Sports, gardening, handicrafts, cooking – anything that keeps your hands busy.
Life motto: Be attentive and curious.
Quelle: Eva Jaisli: «Meine Zeit als Geschäftsführerin wird enden» - Der Unter-Emmentaler