'Best of...' and 'Premium class' - Heimwerkerpraxis magazine and the test portal heimwerker-test.de regularly list our tools in their 'best' lists of product reviews. The PB 8219 tool case has now even been named Tool of the Year 2019.
In separate reviews, test experts from the German trade magazine Heimwerkerpraxis had already awarded our non-slip safety hex keys with corded handles and our SwissGrip and Slim VDE screwdrivers a 'Premium Class' rating. Now, our portable tool set has been given the highest honor: our <link en tools quality-hand-tools mobile-sets product pb-8219pe>PB 8219 tool case has just been named hand tool of the year 2019.
At home and on the road
As versatile as a Swiss Army knife: The compact tool case contains the most frequently used interchangeable blades (slot size 2-5, Philipps 1 and 2) and an awl with an angular tip. For problem-free, fatigue-free working, a SwissGrip handle is included, which effortlessly transmits high manual torques to the screw thanks to its soft, non-slip elastomer covering. The handle offers a secure hold even with wet hands. In addition, two electronic screwdrivers (DIN Norm 2.5 mm and 3 mm) , as well as 160 mm Knipex universal pliers and a 150 mm Knipex plier wrench. The case also has space for your own additions, such as a set of hex keys. This ensures that DIY enthusiasts and professionals have the right tool to hand for every situation – at home and on the road.
Robust, practical and stylish
The case itself is a typical PB Swiss Tools product. With its tear-resistant backpack material and the washable PVC coating on the inside, the tool set is very hard-wearing and easy to clean. The three latest colors gray, petrol and bordeaux make the set an attractive gadget for all those passionate about craftsmanship.
The ideal gift - even custom-printable
Whether for the kitchen cupboard, desk drawer, saddlebag, glove compartment or city bag - the tool set fits just about everywhere. On top of this, on an area of 12 x 12 cm (4.5" x 4.5") the case is <link en tools quality-hand-tools tool4you1>printable and can easily be customized. Logos, words, photos whatever – let your creativity run wild! This makes the set a highly useful and wholly personal gift: as a little something for a housewarming, as a birthday or wedding present, to mark an anniversary or simply as a special sign of appreciation.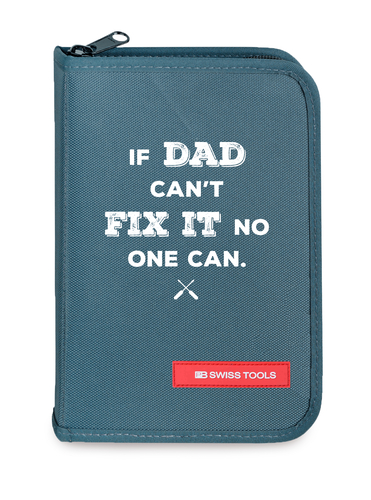 A tool set for life
The lifetime warranty on all tools included in the PB Swiss Tools set is impressive proof of its durability. But the two Knipex pliers also symbolize our unique claim to quality, making the set a reliable companion for many, many years. You can't put it more plainly than critical test expert Dr. Martin Mertens: "The tool case with the screwdriver set from PB Swiss Tools will definitely be the tool set most frequently used in any household. And that's a promise." You could also add: "office and workshop as well as on the road..."
For more information visit: heimwerker-test.de - only in German
#toolset #pb8219 #tooloftheyear #giftidea #pbswisstools #workwiththebest #screwdriver# #electronicscrewdriver #awl #knipex